FBI Counterproliferation Center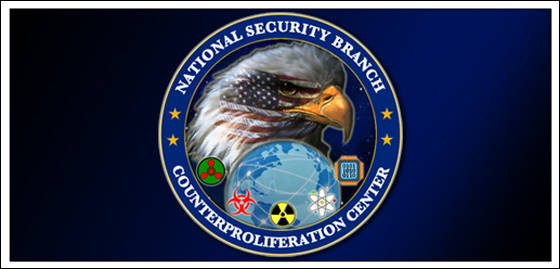 FBI Counterproliferation Center: Keeping weapons of mass destruction and other critical technologies out of the wrong hands.
The spread of WMD and other technologies is a significant threat to U.S. national security. That's why the FBI established its Counterproliferation Center (CPC) in 2011. A component of the National Security Branch, the CPC combines the counterproliferation expertise of the Bureau's Counterintelligence Division, WMD Directorate, and Directorate of Intelligence. All FBI counterproliferation investigations are managed by the CPC, which leverages law enforcement and intelligence techniques to prevent the acquisition of WMD and critical controlled technologies. Collaborative efforts with the Bureau's federal partners and the private sector play an important role in these efforts.
02.12.15
---
Multi-Agency Counterproliferation Efforts
The FBI Counterproliferation Center works closely with other U.S. government centers, most notably:

Export Enforcement Coordination Center, which is managed by Immigration & Customs Enforcement's Homeland Security Investigations, serves as a conduit between federal law enforcement and U.S. intelligence agencies for the exchange of information related to potential U.S. export control violations.

National Counterproliferation Center, which falls under the Office of the Director of National Intelligence, helps lead U.S. intelligence agencies in developing integrated strategies and actions to counter current WMD threats and to anticipate and counter future threats.