Tactical Operations
Tactical Operations
CIRG's Tactical Section ensures that the FBI has a full-time, national-level tactical team and regional SWAT teams capable of being deployed to protect American citizens around the world. The Tactical Section includes the Hostage Rescue Team (HRT), the Crisis Negotiation Unit (CNU), and other programs to support SWAT operations, tactical intelligence, and tactical aviation.
Created in 1983 and based at the FBI Academy in Quantico, Virginia, the HRT is the U.S. government's non-Department of Defense full-time counterterrorist tactical team. HRT, whose motto is servare vitas ("to save lives"), provides enhanced manpower, training, and resources to confront the most complex threats. The team deploys operationally under the authority of the FBI Director and in support of our field offices and legal attachés and performs a number of national security and law enforcement tactical functions in almost any environment or conditions.
Learn more about the Hostage Rescue Team in our series marking the HRT's 30 years of service to the nation

. Details
Since its inception, the team has deployed to more than 850 incidents involving terrorism, violent crimes, foreign counter-intelligence, and other investigations. HRT has performed missions involving hostage rescue, barricaded subjects, undercover operations, high-risk arrests, and surveillance operations. It has undertaken traditional law enforcement roles in response to large natural disasters and dignitary protection missions, and has deployed to Iraq, Afghanistan, and other countries to protect FBI personnel and to conduct sensitive site exploitations and intelligence gathering activities.
In collaboration with the Bureau's Criminal Justice Information Services Division (CJIS), HRT developed the Quick Capture Platform (QCP), a backpack-portable tool that has made an impact on global counterterrorism operations. The QCP enables investigators to collect and store fingerprint data during investigations overseas and provides instant access to federal fingerprint databases—both the FBI's Integrated Automated Fingerprint Identification System (IAFIS) and the Department of Defense Automated Biometric Identification System (ABIS). This enables our operators to determine whether a subject in custody has possible terrorist links in the U.S. or abroad or is likely to pose a threat to U.S. forces.
HRT Selection
Members of HRT are special agents who must pass a challenging two-week selection process and arduous six-month training course. The team is supported by intelligence, logistics, and technical operations squads that are also staffed by special agents and professional and support personnel. Assignment to HRT requires a significant personal commitment. The daily training tempo is rigorous, and there is frequent travel for training and operations.
In 2007, the Bureau initiated its Tactical Recruiting Program to identify and increase the potential number of candidates for the team. About 80 percent of HRT candidates already have tactical proficiencies from police work or military training. Once identified, candidates enter the Bureau as field agents and serve two to three years before trying out for the team. The recruiting program has brought in 150 tactically experienced agents to the Bureau, and approximately 10 percent of them are currently HRT members. Not all agents brought into the program serve on the team—many instead serve on the SWAT team. In all, there are currently more than 1,200 SWAT and HRT personnel in the FBI.
All 56 FBI field offices have a Special Weapons and Tactics, or SWAT, team. Becoming SWAT-certified is a highly competitive process, and team members must pass rigorous fitness tests and be expert marksmen in addition to carrying out their regular investigative duties as special agents.

SWAT teams can storm barricaded buildings and vehicles; breach locks and other structures; arrest armed and dangerous criminals; rescue hostages; patrol areas and provide security; navigate tough terrain by climbing and rappelling; use special techniques to stop fleeing cars; and conduct site surveys for special events. The teams are highly trained and heavily equipped, with expertise in a variety of weapons, including pistols, assault and sniper rifles, and shotguns.
The SWAT Operations Unit (SOU) within CIRG provides program management for the Bureau's SWAT program. This includes research and development of SWAT tactics, equipment, procedures, and training and enables standardization for field office SWAT teams to support each other as part of a nationally-tiered response structure. SOU also provides planning assistance and oversight during multiple-office deployments.
CIRG's Tactical Section ensures that the Bureau has full-time tactical capabilities ready to rapidly deploy in response to critical incidents. An integral part of this tactical component is the Crisis Negotiation Unit (CNU). The unit—which has the motto Pax Per Conloquium "Resolution Through Dialog"—provides program management and training to the approximately 300 Bureau negotiators located in FBI field divisions. Negotiators also routinely provide assistance to state and local police negotiators. In addition, subject matter experts within the CNU deploy domestically with the Hostage Rescue Team to manage negotiation assets at the scene of major sieges, crises, and critical incidents. CNU also provides support to FBI legal attachés responding to overseas hostage and kidnapping matters involving Americans by providing targeted assessments and strategies. In fact, the FBI is considered the negotiation arm of the U.S. government for international incidents.
Tactical Aviation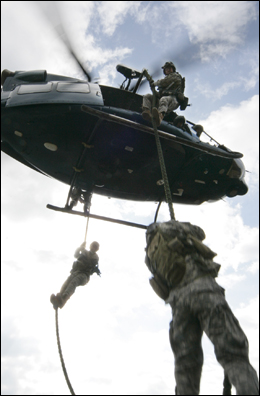 Tactical aviation assets are managed through the Tactical Helicopter Unit (THU). The unit uses a variety of helicopters to support HRT and the field SWAT teams. THU's pilots are trained to fly in various environments and weather conditions. Their mission profiles include arrest and assault force delivery, medical evacuation, vehicle interdiction, and other profiles supporting tactical operations.
Training, logistics, intelligence, and communications also play an integral part in supporting tactical operations. The Tactical Support and Intelligence Unit's (TSIU) mission is to provide operators with the necessary support and equipment to successfully complete operations. In addition, analysts are available to coordinate specific collection activities during operational deployments and to provide timely information to deployed personnel. The Operations and Training Unit (OTU) provides oversight for all the FBI's tactical assets by coordinating training programs to maintain the core skills necessary to support the Bureau's tactical mission. OTU also provides operational support to HRT and the field SWAT program.